Globe & Mail
July 17, 2015
By Carolyn Ireland
Cabbagetown
---
441 Ontario Street
Asking price: $1, 359,000
Taxes: $4,706.37 (2015)
Lot Size: 25 by 123 Feet
Designer Paul Kenning Stewart and architect David Jesson were living on Ontario Street in Cabbagetown when they noticed a "for sale" sign up the street about 13 years ago. The pair found their existing house disconcertingly open to passersby. But the Victorian-era cottage at number 441 was set 53 feet in from the street and sheltered by a front garden.
Records show the house dates to 1887, but Mr.Stewart believes it may be even older. It would have been surrounded by a larger tract of land before they neighbouring houses gradually filled in around it and a street-scape was created. "When this was built in the late 1800s, this was the country," Mr.Stewart says. When they purchased the house at 441 Ontario St, it was dark and hadinterior rooms painted in a multitude of colours. They began an overhaul which saw them replace the floors, windows and cabinetry, There's a new kitchen and bathroom and the outdoor spaces have been redesigned "There hasn't been one thing untouched," Mr.Stewart says. The pair are very much into simplicity and modernism, Mr.Stewart says, but they also wanted to preserve the home's character.
Throughout the house they've used such materials as strip hardwood floors, bead board and pine. In certain places Mr.Stewart has used imported stone from Mexico for added texture and interest. Guests arrive to a front entrance hallway created by enclosing the original porch The floor is river rock set in concrete. In the dining roomthey added a large window and a door that opens to an outdoor dining terrace. The living rom has a large bay window facing the front garden.The large Bauhaus tilt-and-swing windows allow the breeze to flow though the home. "We have a very open house," Mr.Stewart says. At first the kitchen was cluttered in appearance and did not function well. Since the couple moved in early during the month of December, Mr.Stewart says, he considered it a Christmas present to remove the butcher-block shelves lining the room. "I got the screwdriver out, took all the shelving off the wall and it was 100-per-cent improved.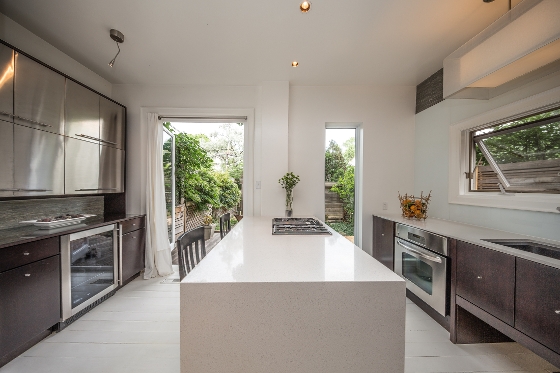 "The home's new kitchen has cherry wood cabinets and Silestone countertops. The large waterfall island – which gives guests a place to congregate – is also made of Silestone. French doors swing out of view to leave the space open to the back garden. Deciding on a material for the stairs to the second floor is one choice the couple grappled with before they decided to go with their original choice of zebra wood. "The staircase and upper hall took us eight years."Upstairs, one bedroom overlooks the front garden and one the rear, In the centre, a third bedroom was turned into a large bathroom. The bathroom mixes modern features, such as a glass-enclosed shower, with antique elements, such as the home's original clawfoot tub.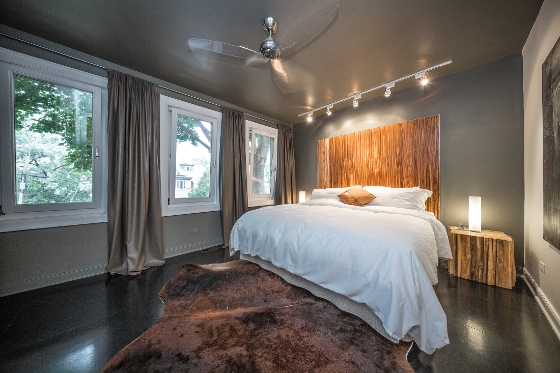 A few years ago the couple held a wedding reception at the house. Guests were able to circulate between the principle rooms and three outdoor living spaces. The carport was converted into a bar.In 2013, the property was a stop on the Cabbagetown Secret Gardens and Private Spaces Tour. The low-maintenance gardens at the front andthe rear have mainly serene white blooms against a backdrop of climbing hydrangea, icy, sweet woodruff and tall evergreens. "We wanted to keep the simplicity of the house and we wanted to be more in tune with nature." The trees, fences and shrubs also create a feeling of seclusion. "The privacy is unbelievable."